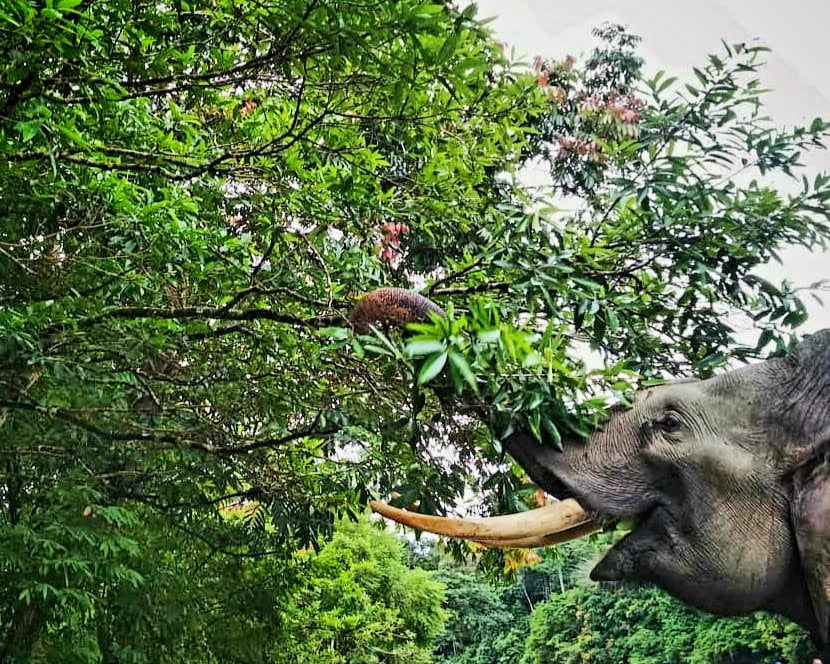 Bukit Lawang Tangkahan
Packages Tours Bukit Lawang Tangkahan -Two Days Jungle Trek – Elephants Bathing    
We organize 4 days package tours Pick up from Medan Airport, drop off at Bukit Lawang Tangkahan which includes elephant washing in Tangkahan, and two days of jungle trekking to watch the orangutans in Bukit Lawang,
Itinerary
Day 1
Our driver will pick you up from hotel Medan /Airport, centrally located in Medan. Start your journey to Bukit Lawang, after a 4-hour scenic journey you will reach Bukit Lawang. The driver doesn't Speak English, but you should not worry, once you reached Bukit Lawang our professional tour guide receives you at Guesthouse in Bukit Lawang.
Day 2
Start trekking After breakfast in the morning at 08: 00 am you will start your journey into the jungle of Gunung Leuser National Park to see wild Orangutans. On your trek (7 hours), your guide will educate you on the local wildlife, flora, and fauna you may encounter in Gunung Leuser. After lunch, you will continue your trek to see other wildlife and learn about the trees/plants which can be used in traditional medicine.
In the late afternoon-your guide will select a suitable spot next to the river to set up camp. You are then free to enjoy the fresh water of the Bohorok river, swim, help prepare dinner, or even go fishing. After dinner, if weather permitting, our team will prepare a bonfire so guests can relax on the river bank before they settle down to sleep surrounded by the sounds of the jungle and river.
Day 3
The following morning you will wake up to the sounds of the jungle. You have a big chance to observe the Sumatran monitor lizards, tortoises, and colourful river butterflies around the campsite. your guide will take you to a waterfall where you can swim and relax. After lunch, you will leave the campsite by traditional rafting boat ('jungle taxi') following the river downstream to the village of Bukit Lawang and directly Transfer by air-con car and off-road (2 hours / one way / off-road) transfer to Tangkahan. Jungle roads which can be bumpy take you through small villages. Witness the destruction of the rainforest through palm oil plantations stretching to the horizon.
Day 4
After Breakfast at 09 am guests will join the daily bathing ritual and help wash the elephants in the Buluh river (up to 1 hour), operated by our partner CRU/LPT Tangkahan. spend time with the mahouts, you need to make up your mind about how to spend the day in this hidden paradise and a swim across the river would take you to a natural hot spring. After Activities, get ready to travel to Kuala Namu Airport. Duration: 5 hours On the Way to the Airport
Tour Includes
Two-night Hotel in Bukit Lawang – 1 Night Tangkaha + Breakfast
Two-day treks, permit to enter the National Park/person, Certified English-speaking guide, porter, Meals (day 1-lunch, dinner, fruit, day 2-breakfast, lunch, fruit) all equipment (tent, roll mat, sleeping bag), local traditional rafting (jungle taxi) Tubes, (ACTIVITIES IN BUKIT LAWANG)
All permits for the National Park, licensed English-speaking guide, Discovery Tankahan, waterfall, natural hot spring, tickets for crossing the Buluh River, local guide (CRU/LPT), Elephant bathing for up to 1 hour,
Private Transport Bukit Lawang-Tangkahan-Kuala Namu Airport (KNO), Driver License, petrol.
Price: 12.750.000 Idr / 2 pax